Wednesday, May 18th, 2016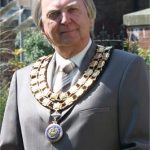 Local Conservative and District Councillor for Shenstone, David Salter, has been appointed the new Chairman of Lichfield District Council.
Cllr Salter was sworn in at Lichfield District Council's Annual Council meeting last night, Tuesday 17 May.
As the Chairman, Councillor Salter will represent the district at a range of events that take place across the district and region, including any royal visits, community events and formal openings.  He will also chair council meetings throughout the year.
Cllr David Salter, said, "I am honoured to take on this role and I am looking forward to representing Lichfield District at the many events and functions I will attend over the year.  It will be interesting to meet people who work to improve the district, and to find out more about their work."
Cllr Salter replaces Cllr Norma Bacon after a year in the role.
Cllr Bacon said, "It's been such a brilliant, if not busy, year as Chairman.  I have thoroughly enjoyed meeting a huge range of people and finding out so much about what is going on across the district.
"From opening new play areas and shops, to showing fellow civics around Lichfield's heritage attractions and the National Memorial Arboretum, there have been plenty of highlights."
You can keep up to date with Cllr Salter throughout his year as Chairman by reading the Chairman's online blog.