Tuesday, April 26th, 2016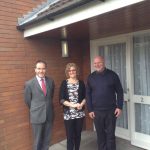 Tamworth's MP, Christopher Pincher, last week dropped in to St Ives Close residential care home, The Leys, to meet residents and see for himself the work undertaken by Mencap and volunteers who run the home for people with some profound learning challenges.
Up to eight residents live in St Ives Close, which is closely integrated into the local community.
Mr Pincher said, "I met some of the people living in St Ives Close, family members who visit them and the staff and volunteers who do a wonderful job in supporting the residents to live their lives.  I will be contacting the County Council and Housing Association to see what further support they can offer.
"The staff have a plan to turn one of the bathrooms into a wet room, which will make life much easier for everyone there – so I will see what I can do to help them with that.  Tamworth has a tremendous community spirit and it is a tribute to that spirit, and the great work that Mencap and its team do, that the residential home is at the heart of the community.  Families of residents say it is important to them."
Garry Perrott, Area Operational Manager for Mencap, said, "It was great for Mr Pincher to accept Mencap's invitation to visit St Ives residential care home   today and take time to see the great work that takes place, as well as listen to the concerns we face in the social care sector.  It was really encouraging that Mr Pincher understood the challenges ahead and took time to listen to the concerns we raised to him during his visit.
"Mr Pincher showed a real interest in the service and was keen to meet the people with a learning disability who live at the St Ives, as well as take time to speak with staff and family members.  I would like to thank Mr Pincher for reacting so swiftly to my invitation as we all felt it was a really positive visit."