Thursday, April 17th, 2014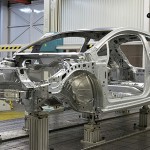 Christopher Pincher, MP for Tamworth, welcomed the announcement of a new Automotive and Engineering Hub (AEH) at Torc Vocational Centre.
The AEH is part of a £2million funding boost from the County Council and the City Deal to meet the demands of the surrounding area as part of expansion plans of Jaguar Land Rover (JLR) and JCB. The centre will offer courses from anyone over the age of 14 and prepare pupils to work in engineering and the automotive industry across the West Midlands.
Commenting on the opening of the new centre Mr Pincher said, "The investment from Staffordshire County Council and the City deal is fantastic news for the young people of Tamworth who are looking at going into an engineering career.
"In a recent business survey I conducted, one of the main reasons local employers say they are challenged when hiring young local people was a perceived lack of specific skills. I hope that the AEH centre with sector based work and skills will start to address some of these concerns and meet the needs of our local engineering firms as they continue to grow and create jobs."
The centres will continue to offer existing courses to 14 to 16-year-olds, but from September will be opened up to people of all ages who will be able to benefit from the new provision.
Staffordshire County Council is investing £1million in the project, while new state-of-the art equipment will be installed thanks to a further £1million, which has come as a result of the Stoke-on-Trent and Staffordshire Enterprise Partnership's Powerhouse Central City Deal.