Tuesday, October 21st, 2014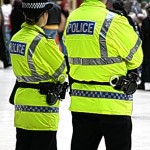 Tamworth's MP, Christopher Pincher, was happy to hear that this week new statistics revealed that crime nationally has dropped by more than a fifth under this government.
Statistics released by the Office of National Statistics revealed that crime has dropped more than one fifth since June 2010. The independent Crime Survey for England and Wales also paints a similar picture with crime falling by 20%. This year there were more than 2.3 million fewer crimes than the year before this Government came to power.
Responding to the new statistics Mr Pincher stated, ""I am delighted to hear of the news that crime has decreased by a fifth since June 2010, more proof that the long term plan this party is laying out is working for the people of Britain. The action plan we set out includes freeing the police to fight crime, giving criminals tougher sentences to put victim's minds at rest and tackling the root causes of criminality.
"Since June 2010 there were 413,000 fewer violent crimes, a massive success in keeping people safe on our streets. It is great news that this government will continue to cut unnecessary red tape within the police force to ensure that police can focus on what really matters – fighting crime for safer communities around Tamworth."
There were 962,000 fewer incidents of criminal damages, 413,000 fewer violent crimes and 290,000 fewer vehicle crimes since June 2010.