Sunday, May 10th, 2015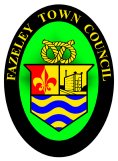 The Conservative Party have retained control of Fazeley Town Council for a third term following Thursday's election held in Fazeley, Bonehill and Mile Oak.
After all of the votes were counted and the results declared, the Conservative Party won eight of the eleven Town Council seats with the other three going to the Labour Party.
Fazeley's current Town Mayor, Cllr Debbie James, and Cllr Jean Dann were both re-elected and they are joined by the Conservative Party's new representative on Lichfield District Council Cllr Olivia Shepherd along with Cllr Brian Hoult, Cllr Gwen Kingsley, Cllr Sam Kingstone, Cllr Cindy Rogers and Cllr Evelyn Rowe who also represents the Conservative Party on Tamworth Borough.
The once Labour safe Town Council has been under Conservative Party control since 2007 when, for the first time, the Party fielded eleven candidates and won nine of the eleven seats.  The Party put up eight candidates at the 2011 election and retained control of the Council without an election taking place due to only eleven candidates in total putting their name forward.
The first meeting of the new Town Council will take place on Monday 18th May at 19:30 in the Council Chamber at Fazeley Town Hall and members of the are welcome to attend.