Tuesday, May 17th, 2016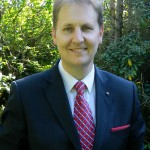 Staffordshire's Police and Crime Commissioner, Matthew Ellis, has called for a change in the voting system for future PCC elections.
Mr Ellis, who was re-elected with a majority of 8,487, spoke out after 4,065 ballot papers were spoilt in the recent election held across Staffordshire and Stoke-on-Trent.
He said, "My preference would be that we go for a traditional 'first past the post'; it's clear, it's tidy.  A number of people vote for a candidate, that candidate gets in.
"The current system might seem fairer but if we go through the rigmarole of having a massive proportion of people utterly confused then as far as I'm concerned it defeats the object."
In the five PCC elections held across the West Midlands region, 46,277 ballot papers were spoilt and the election for the West Midlands Commissioner had 28,346 spoilt papers, the largest by far.