Saturday, June 18th, 2016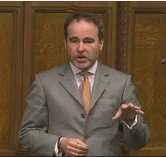 Tamworth's MP, Christopher Pincher, has welcomed the progress, which has been made in implementing the Government's pledge for fairer funding for schools across the country.
The Government is currently at the consultation stage of the process to redesigning the funding formula.  There are two stages to the consultation and the Government has completed the first stage of the consultation, with the second stage of consultation about to commence.
Mr Pincher said, "I am pleased to say that the Government has completed the first of two stages of consultation in the process of introducing fairer funding for schools.  This first stage has discussed the basic foundations and the method of implementing the fairer funding formula.
"This means that we are one step closer to seeing fairer funding for Staffordshire and Tamworth.  If we get it right, that will be of huge benefit to Tamworth.  I will keep local schools up to date so they know what to expect and what we can all do to encourage a better set of school funding rules.
"This something a number of us at Westminster have been pressing for several years.  We will keep at it."