Friday, May 6th, 2016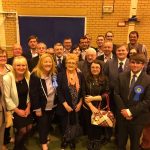 The Conservative Party has retained control of Tamworth Borough Council and increased its majority on the council.
After a hard fought campaign, the Conservative Party held Amington, Mercian, Spital and Trinity and retook Belgrave and Castle to increase its number of councillors from 18 to 20.
The Conservative Party's majority on Tamworth Borough Council also increased from 6 to 10 seats.
Tamworth Election Results:
Amington – Conservative hold
Belgrave – Conservative gain from Labour
Bolehall – Labour hold
Castle – Conservative gain from Labour
Glascote – UKIP gain from Labour
Mercian – Conservative hold
Spital – Conservative hold
Stonydelph – UKIP gain from Labour
Trinity – Conservative hold
Wilnecote – Labour hold