Saturday, May 7th, 2016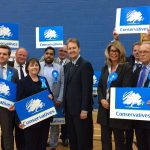 Matthew Ellis has been elected Staffordshire's Police and Crime Commissioner for a second term.
Mr Ellis, Conservative Party candidate, was declared the winning candidate following a second round of votes that saw him poll 75,000 votes against Labour's 66,513.  Three other candidates were eliminated after the first round of counting.
After the result was confirmed, Matthew said, "We will put all the resources into frontline policing we can."
Turnout across Staffordshire was up to 21.57%, up from 11% four years ago.
Results after the second round of votes
Conservative – 75,000 votes
Labour – 66,513 votes
Results after the first round of votes
Conservative – 63,123 votes
Labour – 54,753
UKIP – 27,550
Independant – 22,155
Green Party – 6,527