Wednesday, June 1st, 2016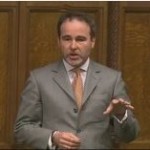 Christopher Pincher, MP for Tamworth, last week contributed to a debate on the Economy and Work following the Queen's Speech in the House of Commons.
He welcomed measures for delivering security for working people, increasing life chances for the most disadvantaged, and strengthening our national security.
The Queen's Speech he believes will improve lives across the country, and contains measures that will continue progress in delivering the Conservative Party's manifesto commitments.  Since 2010, the Government has been working to do this, and we have seen:
31 million people given a tax cut
58 million people in work, up 2.5 million since 2010
Over 2.6 million new apprenticeships started across England
9 million workers directly benefiting from the introduction of the National Living Wage
Over 753,000 new homes provided
In his speech, Mr Pincher praised the success of West Midlands and Tamworth firms in driving the local economy forward.  He paid tribute to local employers Jaguar Land Rover, BMW, Invotech and Alcon.
He also praised the Government on their work with the Help to Buy scheme, which has been seminal in getting people on to the property ladder.  However, he called for more homes that people want to live in the West Midlands and urged the Chancellor to encourage smaller SMEs and small developers into the supply chain.
Crucially, he also used the opportunity to call for further work to improve and upgrade the A5 running through Tamworth.  Mr Pincher believes Wall Island must be redeveloped and the Stonydelph junction near the M42 re-drawn to stop traffic backlogs.
Mr Pincher said, "This was a Queen's Speech for aspirational people who want to do the right thing and get on.  That is why we made gains in the local elections in my constituency just a few weeks ago.  In a town that had nearly 30 Labour councillors 16 years ago, there are now just seven.  After the general election, Jon Cruddas was quite right to write in his, I hope, non-ironic document "Labour's Future", Labour lost because voters didn't believe it."
Following the debate Mr Pincher added, "We've seen people's taxes cut, wages boosted, more homes built, and jobs and apprenticeships created.  New Bills will help people save money, buy a home, get fast broadband access, as well tackle some of the deepest social problems in our country, and strengthen our national security.  All of this will mean a better and brighter future for Tamworth."