Thursday, November 29th, 2012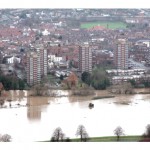 The Mayor of Tamworth, Conservative Party Cllr Tina Clements, has thanked everybody involved in helping local residents during the horrific floods that hit Tamworth last weekend.
Cllr Clements said, "I would like to thank all the emergency services who have been working round the clock to ensure we are all kept safe in this week of the worst flooding most of us have ever seen.  The Environment Agency who have also been working 24hrs monitoring the river levels, helping with evacuations and keeping us up to date with road closures.
"Also all staff from Tamworth Borough Council who have been called out to assist and the media department, who have kept the websites, twitter and Facebook accounts up to date with all info.  To Alex Farrell and the team from TCRFM who have kept everyone locally informed of bridge closures road closures and all flood warnings.
"And finally, to the residents who have headed those warnings and have also phoned in to let us know where there have been problems."
Anyone who requires info please contact the Environment Agency or check Tamworth Borough Council's website.