Tuesday, November 20th, 2012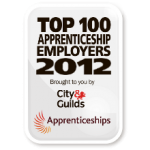 Conservative Party controlled Staffordshire County Council has made it into the Top 100 employers of apprentices in England for the second year running and their apprenticeship scheme has been highly commended at the recent Apprenticeship Awards Ceremony at the NEC in Birmingham.
Thanks to the County Council's highly successful apprenticeship scheme Young people in Staffordshire will continue to get the head start they need in their careers.  The scheme, which has been running since 2009 has apprentices working in a wide range of roles including, business administration, Teaching Assistants, Chefs, catering staff, ICT technicians and social care assessors.
The scheme plans to take on 300 apprentices over the next two years.  Furthermore, Nine out of ten apprentices end up getting a permanent job with the Council.
Ben Adams, Deputy Leader of Staffordshire County Council and Cabinet Member for Employment and Skills said, "The training and placing of apprentices is a top priority for the council, and we will continue to uphold our pledge to the county's young people to give them the skills they need to be successful and get them into employment.
"We are very proud of our Apprenticeship scheme and delighted to have made it into the top 100 companies in England for the second year running.  Our work doesn't stop there though, as we now turn our attention to helping other employers to realise the benefits of taking on apprentices through our Apprenticeship Helpline.
"By working closely with businesses we are not only helping them become more successful but are also helping them to realise their wider responsibility to the local economy and to Staffordshire's future prosperity."
The Apprenticeship helpline is available on 0300 111 8002 and has trained advisers standing by to give advice on everything from finding the right young person, the steps needed to set up a successful apprenticeship programme, to the grants available for employers taking on their first apprentice.  Details can also be found by clicking here.
For more information on the apprenticeship scheme, please visit www.staffordshireapprentices.org.uk.