Sunday, November 11th, 2012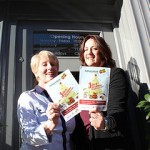 Lichfield City centre traders are launching a Shopping Crawl to give local shoppers a chance to win over £1,000 cash and vouchers for local stores and local Conservative councillor and Cabinet Member for Tourism at Lichfield District Council, Louise Flowith, has praised the scheme.
This Christmas shoppers and visitors to Lichfield City centre will be in with an exclusive chance to win £800 cash and £250 vouchers as part of a new Shopping Crawl, launched by local independent shops and the Lichfield Town Team.
Councillor Flowith, who represents Little Aston on Lichfield District Council, said, "The shopping crawl is a fun idea to encourage people around Lichfield City stores and we're really proud to be able to support and help promote it.  At the recent traders' event where local shopkeepers came up with ideas to invest the £50,000 High Street Innovation Funding, a shopping crawl came out as one of the top ideas.
"Traders will be meeting again soon to decide where to invest the funding, so if successful, I hope that this shopping crawl may be the first of many that tempt shoppers into our beautiful city!"
The Independent Shopping Crawl is part of a nationwide initiative, launched by Independent Retailer Month, which aims to boost footfall on high streets up and down the country.  Locally the campaign is supported by more than 20 local retailers, as well as the new Lichfield Town Team, Lichfield District Council, The Best of Lichfield, the Lichfield Gazette and Design Pit, who helped to put the passport together.
Over 17,000 passports will be delivered to homes across Lichfield in November and if one is not delivered, it can be picked up from any of the shops on the crawl, as well as from the Tourist Information Centre in the Lichfield Garrick.
Once all of the stamps have been collected, fill in the details on the back of the passport and hand it in to any of the participating retailers before closing time on 24 December 2012 to be in with a chance to win.
The prize will be drawn in January 2013, and will be a mixture of vouchers for city stores and money, that altogether will be up to the value of £1,050.  The lucky winner will be notified by the contact details they include on their submitted passport.  For full competition terms and conditions visit www.lichfielddc.gov.uk/shoppingcrawl.