Sunday, October 16th, 2016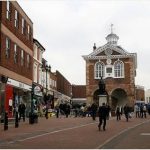 Tamworth's MP, Christopher Pincher, has welcomed the news published by the Start Up Loans Company (SULCo) that over £240,000 has been loaned to 40 individuals in Tamworth.
SULCo, founded in 2012, was set up to support individuals who want to start a business but cannot access traditional sources of finance.
The scheme is funded by the Government and British Business Bank which to date has helped create over 40,000 businesses and lent over £250m, some of which has been received in Tamworth.
To date it is estimated that for every £1 invested in businesses, over £3 has been returned to the economy.  The scheme also has a target to deliver 10,000 loans per year so that by 2020, 75,000 loans will have been delivered.
Mr Pincher said, "I warmly welcome the news that SULCo has invested so much in so many individuals looking to set up businesses in Tamworth.  It's reassuring news, which shows confidence in the economic climate remains high, and further that businesses and entrepreneurs in Tamworth are as active as ever.
"If you would like more information about any aspect of the scheme please get in touch with me."