Thursday, July 14th, 2016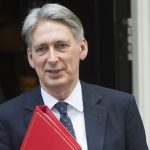 Great Britain's new Prime Minister, Theresa May, has appointed the former Foreign Secretary Philip Hammond as Chancellor of the Exchequer.
Having been in Parliament since 1997, Mr Hammond is one of the Conservatives' most experienced politicians and it is said that he has long wanted the role of chancellor.
Before becoming a politician, Mr Hammond had a career in business – in the medical equipment industry.
Mr Hammond studied philosophy, politics and economics at Oxford University and is seen as a "fiscal hawk", which means he believes in prudent public finances.