Wednesday, May 23rd, 2012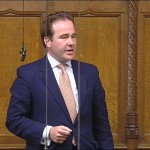 Christopher Pincher, Member of Parliament for Tamworth, has questioned David Cameron on what further support the Government can provide jobseekers in Tamworth in Parliament.
Mr Pincher spoke up in Prime Minister's Questions last week, his fourth PMQ since becoming the Member of Parliament in 2010.
Mr. Pincher asked the PM, "Both the National Audit Office and the Public Accounts Committee have praised the Work programme for getting off the ground in under a year, which is in stark contrast to the four wasted years it took to get Labour's programme off the ground.  What further help can the Prime Minister give my striving jobseekers in Tamworth, where unemployment figures monthly are falling, to find the work they want?"
The Prime Minister responded by saying, "My hon. Friend makes an important point, because not only did the Work programme get up and running quickly, but it is already helping 519,000 people.  It will help over 3 million in total.  The key difference between it and previous programmes is payment by results, so we are paying providers more money for the more difficult people who have been out of work for a long time and have serious challenges in getting back into the workplace.
"I think that we can use this programme to help not only people who have fallen out of work recently, but people who have totally lost connection with the labour market.  Those are the people we want to help most, and the Work programme is a very innovative way of doing that."
Afterwards Mr Pincher added, "I fully support Government proposals to "make work pay."  Many local people have contacted me saying how fed up they are with the welfare system that ballooned under Labour's watch.  They want a welfare system that always makes it pay to work and which actively gets people back into work.
"This Government is committed to change the "something for nothing" culture and the Work Programme is an important step in the right direction to helping the long term unemployed find jobs and the chance of a better future.
"I am also very pleased to hear that unemployment in Tamworth dropped by 10% in the last month including a 20% reduction in youth unemployment.  Skilled jobs are being created in the region and I trust the positive news will continue."