Saturday, December 31st, 2016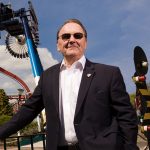 Drayton Manor Park's Chief Executive Colin Bryan has received an OBE in the Queen's New Year Honours list.
Colin Bryan, who runs the park near Tamworth, was recognised for his charity work and contribution to tourism.
He said, "I feel very honoured to receive this OBE.  I still love watching our guests have fun, enjoying themselves, knowing I have played a part in that."
Tamworth Conservative Association's Chairman Cllr David Smith said, "Tamworth Conservative Association extend their congratulations to Colin Bryan Chief Executive of Drayton Manor Park on the award of an OBE in the New Years Honours list.
"Apart from being a National and Regional leader in the development of tourism, Colin is a major champion of so many charities it's hard to list them all.  Beyond all else he has generated so many millions of smiles and screams from children young and old at Drayton Manor Park, we all have a debt of gratitude now so ably recognised by this honour."